Do you ever wonder what your life would be like if you hadn't done something? What if you didn't miss that bus? Or what if you hadn't gone to college in Texas? Or what if you didn't eat that extra spicy burrito right before a job interview?
What if I hadn't  flown to Tokyo on a one way ticket in 1983? —I wouldn't have lived in Japan for seven years. What if I  hadn't gone to the Atsugi Naval Base, in Atsugi Japan, on January 26th, 1990?— I wouldn't have met my husband, he shipped out three weeks after I met him.What if I hadn't adopted four cats?— I wouldn't have 7 litter boxes to clean.
What if I hadn't cut off all of my hair in 2002? —My braid would be down to my knees.
What if I hadn't taken the Two Writing Teachers challenge last year in March to write every day?— I wouldn't have met Elsie of elsie tries writing, my first subscriber to my blog. I wouldn't have met Nancy at two years and finishing strong, or Stacey at raising a literate human.
What if I hadn't taken the on-line writing course, Tribe Writer's by Jeff Goins, last October? —I wouldn't have learned how to craft my writing,  establish a platform, or learn how to publish a book. I wouldn't have met Kathleen Caron at full of life  or Christa Sterken at  christa sterken.  I wouldn't be writing a book , "Keep Dreaming, You're not dead yet." with Kathleen Caron. I wouldn't have driven all the way to Tennessee with Kathleen to attend the Storyline Conference. I wouldn't be part of a private facebook group of writers, who share tips,  and encourage each others work.
I wouldn't have written a book, or said, "I am a writer." (The book, "The Artist's Manifesto" is almost finished. I have to stop rearranging the furniture and cleaning the basement and finish editing the book.)
If I hadn't taken taken Tribe Writers my cat wouldn't have a blog and be writing his memoir. www.thecatwhowrites.com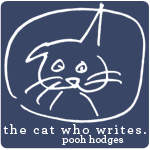 I don't know if I would have signed up for Tribe Writers if I hadn't had skin cancer last year, malignant melanoma. I kept putting off my dreams, thinking I would pursue my writing next year, or after the kids left home. Taking care of everyone else, and not taking care of myself. Skin cancer was a wake up call to live today and write my stories.
You don't have to take a writing course to take care of yourself. You can write on your own, or read books on writing. Jeff Goins book, You are a writer is well written, and will help you write. Maybe taking care of yourself is to take swimming lessons, or walk around the block, or take time to read a book. But if you want to pursue writing, I do recommend Tribe Writers. It is more than just a writing class, it is a life long community of like minded people.
What do you want to do? Do you want to write? Do you want to find an audience for your writing?
What if you didn't take Tribe Writers?
You have a story to tell. A story that only you can tell. What if you never told it? What if you never had a chance to make a difference in someone's life with your writing? Someone needs to read what you have to say.
Tribe Writers is open again, for the last time this year. Jeff Goins, who built a blog from scratch two years ago, and has over 100,000 monthly readers, and two published books, teaches Tribe Writers.
The 8 week course, which you get life-time access to, is divided up into four modules, where you learn how to develop your voice as a writer, establish a platform, expand your reach, and get published.
And Jeff is giving away over $160.00 worth of additional material. You can read more about the course here.
If you don't like Tribe Writers, Jeff will give you back all of  your money. There is a 60 day money back guarantee. And he will even be nice about it, because he is that kind of guy. I don't want my money back. Jeff can keep it. And I will keep my life time access to great material.
Do you have a What if story? Please tell me in the comments. I would love to know what happened to you when you missed the bus, went to school in Texas and ate the burrito.
p.s. The class closes tomorrow at noon. Next year it will cost more. It is worth every penny.
p.s.s. I am an affiliate for the course. All alumni are affiliates. I would never, ever, ever, recommend anything to you that wasn't wonderful and amazing. The money helps buy kitty litter. We have four cats and seven litter boxes.
p.s.s.s I write and share my "Slice of Life," story at Two Writing Teachers every Tuesday. You can read more stories here. It is a wonderful community of teachers and writers.