I proclaim 2013 to be:
The Year of The Blue Toilet Seat
This is the year to be bold and have fun.
Embrace the color in your life.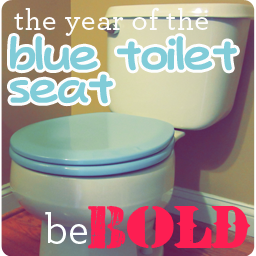 The Year of the Blue Toilet Seat was prompted by a visit to the hardware store with my daughter at the end of last year. You can read the story here. 
Is there a rule book out there somewhere that says all toilet lids have to match the bowl color? Is there an eleventh commandment, "Though shalt always buy a toilet seat that is the same color as the toilet bowl?"
Pamela Hodges
What is the Blue Toilet Seat in your life?